TM5 TM6
Kompatible Versionen
Achtung: Dieses Rezept erfordert eine spezielle Gerätekombination und ist nicht mit anderen Geräten kompatibel.
TM6
TM6 + Thermomix Friend
TM5
TM5 + Thermomix Friend
TM31
Marinated White Fish Fillets with Chermoula Sauce and Couscous Salad
Schwierigkeitsgrad
Die meisten unserer Rezepte sind einfach. Manche sind etwas herausfordernder: und zwar jene, die als mittel oder fortgeschritten bewertet sind.
Arbeitszeit
Dies ist die Arbeitszeit, die du benötigst, um diese Mahlzeit zuzubereiten.
Gesamtzeit
Dies ist die Zeit, die benötigt wird, um das Gericht von Anfang bis Ende zuzubereiten: Marinieren, Backen, Kühlen usw.
Portionen
Dies zeigt an, auf wie viele Portionen dieses Gericht zugeschnitten ist.
Zutaten
Marinated Fish
2 garlic cloves
5 g fresh root ginger, peeled, cut in round slices (2 mm)
1 red chilli, fresh, halved and deseeded
½ - 1 tsp dried fennel seeds, to taste
1 pinch ground cinnamon
¼ tsp saffron
½ tsp fine sea salt
3 Tbsp olive oil
2 white fish fillets, skinless (approx. 180 g each)
Chermoula Sauce
2 garlic cloves
30 g fresh coriander, leaves and stalks, cut in pieces
½ - 1 tsp ground cumin, to taste
1 tsp sweet paprika
1 pinch dried chilli flakes
30 g freshly squeezed lemon juice
30 g olive oil
Couscous Salad
100 g couscous
15 g olive oil
110 g water
1 pinch ground cumin
½ tsp salt
5 sprigs fresh coriander, leaves only
1 fresh red chilli
1 tsp lemon zest, finely grated
1 carrot (approx. 60 g), cut in pieces
50 g pitted black olives
80 g tinned chickpeas, drained
Steaming Marinated Fish
---
Nährwerte

pro 1 portion

Brennwert

3187 kJ / 762 kcal

Eiweiß

43 g

Kohlenhydrate

44 g

Fett

45 g

Ballaststoffe

7 g
---
Alternative Rezepte
Pollock and Spinach Lasagne
1 Std.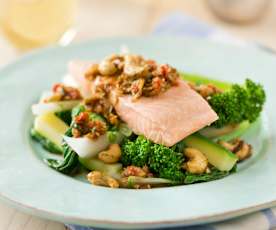 Salmon with Ginger Sauce and Spiced Cashews
30 Min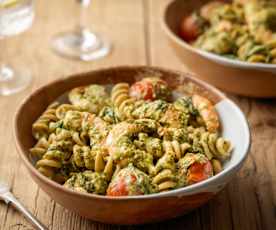 Prawn Pasta with Rocket Pesto
55 Min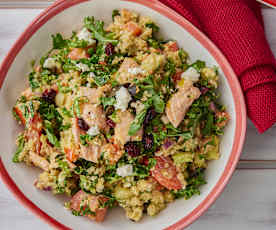 Salmon, Quinoa, Feta and Mixed Vegetable Salad
50 Min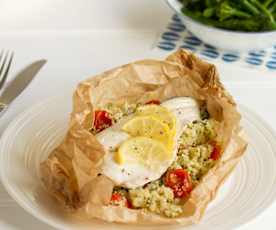 Sea Bass with Lemon & Herb Couscous
35 Min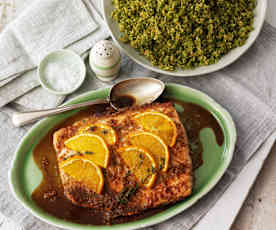 Orange Salmon with Broccoli Couscous
25 Min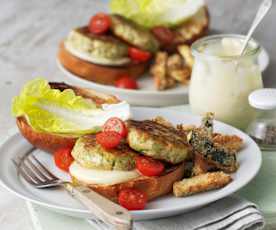 Lemon and Herb Salmon Burgers with Parmesan Courgettes
30 Min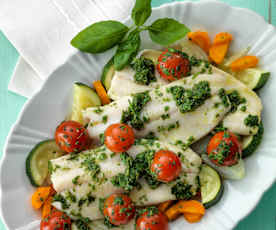 Trout with Pesto, Tomatoes and Vegetables
45 Min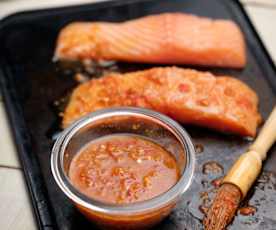 Ginger, Chilli and Soy Marinade
5 Min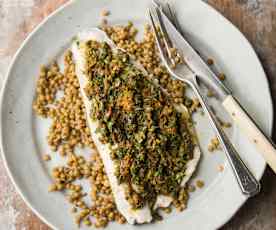 Sea Bass with Castelluccio Lentils - Spigola con lenticchie di Castelluccio
1 Std.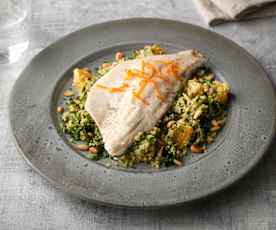 Steamed Sea Bass with Watercress Orange Couscous
35 Min