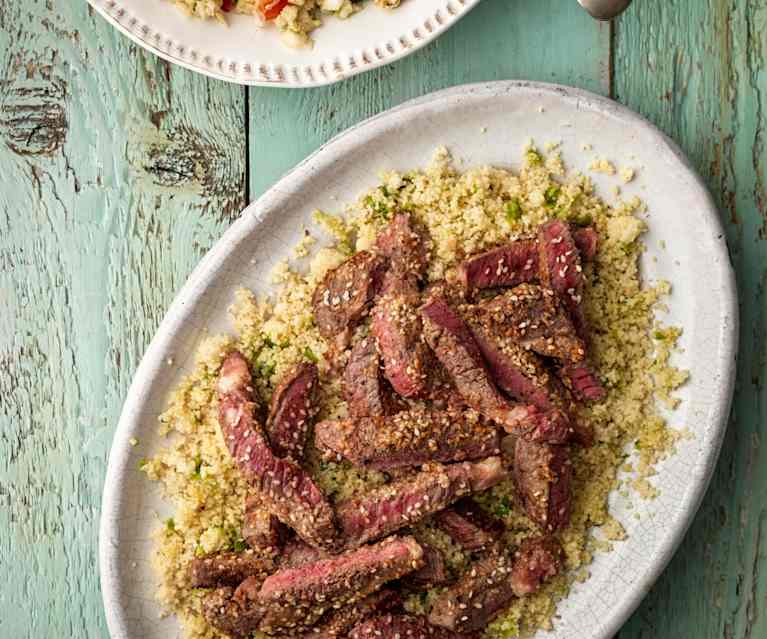 TM6 TM5
Kompatible Versionen
Achtung: Dieses Rezept erfordert eine spezielle Gerätekombination und ist nicht mit anderen Geräten kompatibel.
TM6
TM6 + Thermomix Friend
TM5
TM5 + Thermomix Friend
TM31
Seared Sesame Steaks with Ginger Chopped Salad and Lime Couscous
Schwierigkeitsgrad
Die meisten unserer Rezepte sind einfach. Manche sind etwas herausfordernder: und zwar jene, die als mittel oder fortgeschritten bewertet sind.
Arbeitszeit
Dies ist die Arbeitszeit, die du benötigst, um diese Mahlzeit zuzubereiten.
Gesamtzeit
Dies ist die Zeit, die benötigt wird, um das Gericht von Anfang bis Ende zuzubereiten: Marinieren, Backen, Kühlen usw.
Portionen
Dies zeigt an, auf wie viele Portionen dieses Gericht zugeschnitten ist.
Zutaten
Tahini
50 g toasted sesame seeds (see tip)
30 g groundnut oil
Couscous and Chopped Salad
180 g couscous
220 g boiling water
2 limes, thin peelings of skin and 20-30 g juice to taste
10 sprigs fresh coriander, cut in pieces
80 g extra virgin olive oil
1 ¼ tsp fine sea salt
2 pinches ground black pepper, plus ½ tsp
5 - 10 g fresh root ginger, peeled, cut in round slices (2 mm), to taste
100 g cashew nuts
1 garlic clove
1 courgette (approx. 200 g), cut in pieces (2-3 cm)
1 red pepper (approx. 145 g), quartered
½ white cabbage (approx. 300 g), cored, cut in pieces (2-3 cm)
Steaks
40 g toasted sesame seeds
1 Tbsp groundnut oil
2 sirloin steaks (approx. 170 g each), fat removed
4 pinches fine sea salt, or to taste
2 pinches ground black pepper, or to taste
---
Nährwerte

pro 1 portion

Brennwert

3601 kJ / 866 kcal

Eiweiß

38 g

Kohlenhydrate

41 g

Fett

59 g
---
Alternative Rezepte
Thai Peanut Chicken with Coconut Rice
1 Std.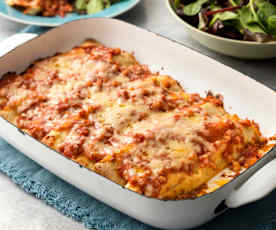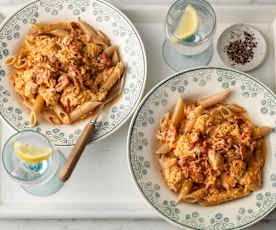 Creamy Chicken and Chorizo Pasta
30 Min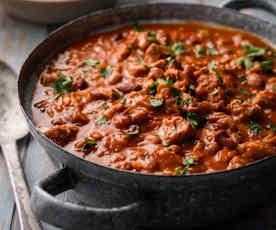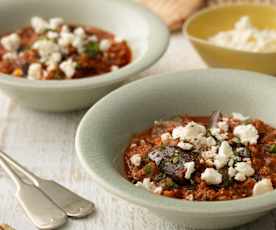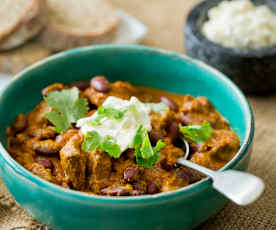 Chilli Beef with Lemon Feta
30 Min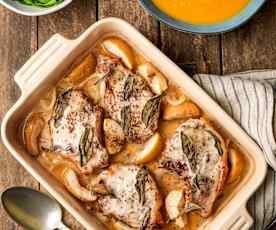 Roasted Pork and Apples with Butternut Squash Purée
1 Std. 25 Min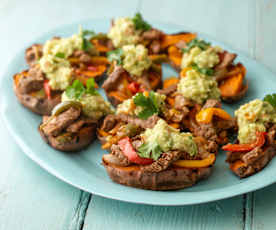 Steak Fajita Sweet Potatoes
1 Std.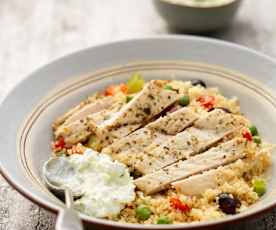 Lemon Chicken with Couscous and Tzatziki
30 Min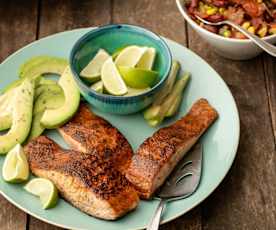 Blackened Salmon with Bean and Corn Salsa
20 Min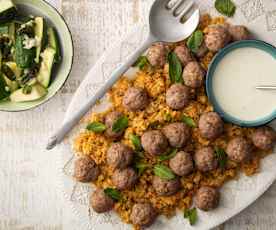 Dukkah Lamb Meatballs with Quinoa and Yoghurt Sauce
40 Min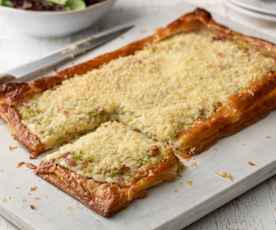 Bacon, Leek and Emmental Tart
25 Min