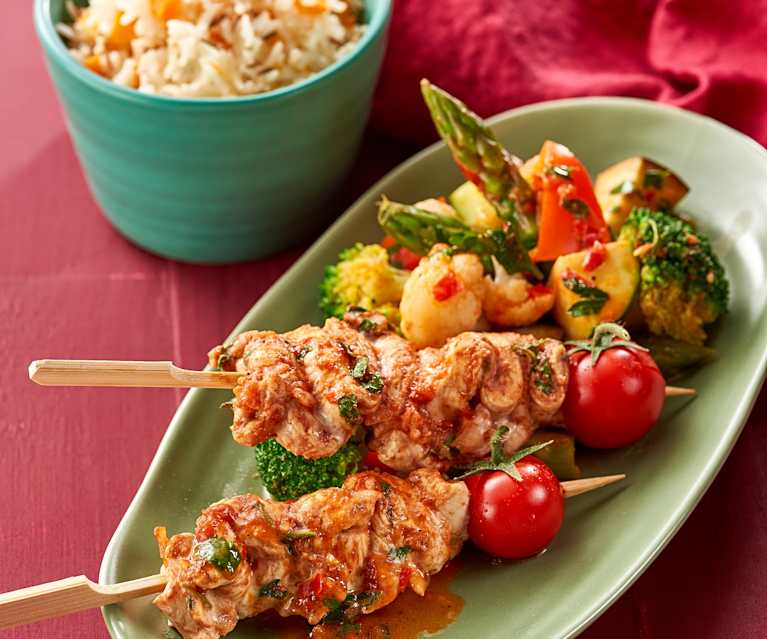 TM5 TM6
Kompatible Versionen
Achtung: Dieses Rezept erfordert eine spezielle Gerätekombination und ist nicht mit anderen Geräten kompatibel.
TM6
TM6 + Thermomix Friend
TM5
TM5 + Thermomix Friend
TM31
Chicken Skewers with Cumin Rice and Warm Vegetable Salad
Schwierigkeitsgrad
Die meisten unserer Rezepte sind einfach. Manche sind etwas herausfordernder: und zwar jene, die als mittel oder fortgeschritten bewertet sind.
Arbeitszeit
Dies ist die Arbeitszeit, die du benötigst, um diese Mahlzeit zuzubereiten.
Gesamtzeit
Dies ist die Zeit, die benötigt wird, um das Gericht von Anfang bis Ende zuzubereiten: Marinieren, Backen, Kühlen usw.
Portionen
Dies zeigt an, auf wie viele Portionen dieses Gericht zugeschnitten ist.
Zutaten
Marinated Chicken Skewers
1 ½ tsp salt
1 tsp ground cinnamon
1 tsp sweet paprika
1 tsp ground allspice
450 g chicken breasts, skinless, cut in long thin strips (0.5 cm thick, 2 cm wide)
6 - 8 cherry tomatoes (optional)
50 g onions, quartered
60 g tomato purée
4 - 6 sprigs fresh parsley, leaves only
80 g water
20 g white wine vinegar
Salad Dressing
50 g cherry tomatoes, halved
15 g wine vinegar
20 g olive oil
½ tsp salt
1 pinch ground black pepper (optional)
2 - 3 sprigs fresh parsley, leaves only
Steamed Chicken Skewers, Cumin Rice and Warm Vegetable Salad
200 g basmati rice
1700 g water
120 g carrots, cut in pieces
1 tsp cumin seeds (optional)
1 ½ tsp salt
600 g mixed vegetables (e.g. peppers, aubergines, courgettes, cauliflower, broccoli, asparagus), cut in pieces (3 cm)
100 g green lettuce leaves, for serving (optional)
---
Nährwerte

pro 1 portion

Brennwert

1801 kJ / 431 kcal

Eiweiß

39 g

Kohlenhydrate

48 g

Fett

7 g

Ballaststoffe

6.8 g
---
Alternative Rezepte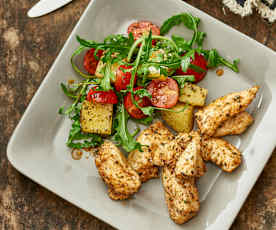 Chicken and Warm Potato Salad
55 Min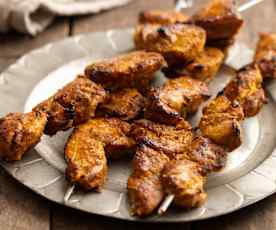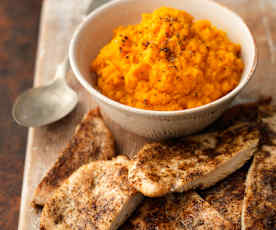 Cajun Chicken and Sweet Potato Mash
25 Min
Full English Breakfast Popover
35 Min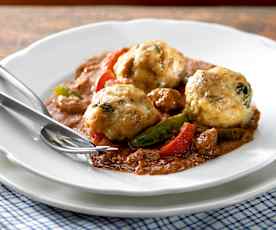 Beef goulash with bread dumplings
1 Std. 30 Min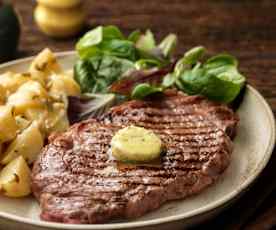 Herby Steaks with French Potato Salad
45 Min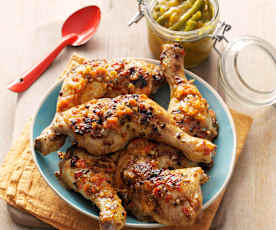 Piri Piri Chicken with Pickled Curry Beans
3 Std.