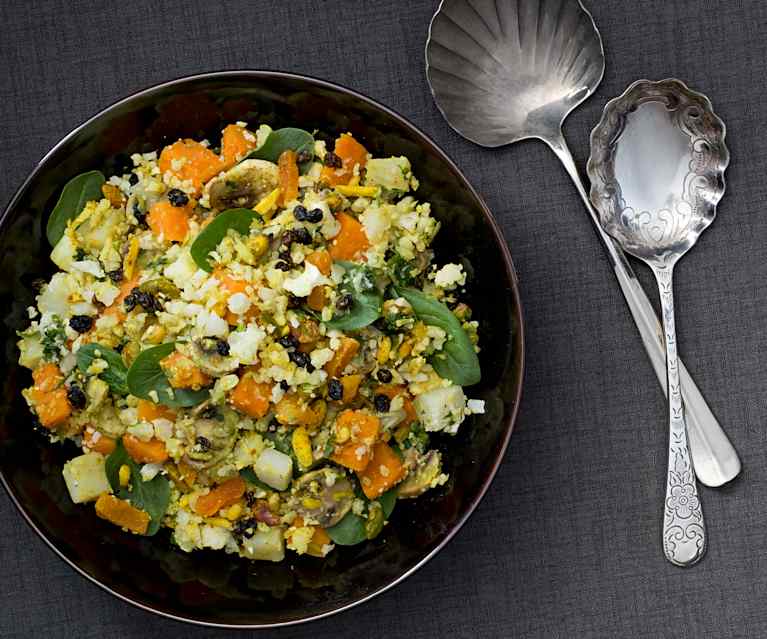 TM6 TM5
Kompatible Versionen
Achtung: Dieses Rezept erfordert eine spezielle Gerätekombination und ist nicht mit anderen Geräten kompatibel.
TM6
TM6 + Thermomix Friend
TM5
TM5 + Thermomix Friend
TM31
Cauliflower Rice Pilaf with Yams
Schwierigkeitsgrad
Die meisten unserer Rezepte sind einfach. Manche sind etwas herausfordernder: und zwar jene, die als mittel oder fortgeschritten bewertet sind.
Arbeitszeit
Dies ist die Arbeitszeit, die du benötigst, um diese Mahlzeit zuzubereiten.
Gesamtzeit
Dies ist die Zeit, die benötigt wird, um das Gericht von Anfang bis Ende zuzubereiten: Marinieren, Backen, Kühlen usw.
Portionen
Dies zeigt an, auf wie viele Portionen dieses Gericht zugeschnitten ist.
Zutaten
2 oz Parmesan cheese, cubed (¾ in.) (optional)
1 - 2 oz pistachio nuts, unsalted, shelled, peeled
1 - 2 oz pine nuts
1 - 2 oz slivered almonds
½ tsp ground cinnamon
½ tsp ground cumin
½ tsp ground ginger
½ tsp ground coriander
½ tsp ground turmeric
24 ½ - 26 ½ oz cauliflower, broken into florets (1 in.)
2 garlic cloves
4 green onions, roots removed and quartered
4 sprigs fresh parsley, leaves only
4 sprigs cilantro, leaves only (approx. 0.5 oz), divided
7 oz fresh mushrooms, thinly sliced
1 oz white wine
17 ½ oz water
10 ½ oz yams, cubed (approx. ¾ in.)
2 oz currants
3 oz fresh baby spinach, leaves only, lightly chopped
12 soft dried apricots, thinly sliced (approx. 3 oz)
½ tsp salt, to taste
½ tsp ground black pepper, to taste
---
Nährwerte

pro 1 portion

Brennwert

1996.7 kJ / 477.2 kcal

Eiweiß

15.4 g

Kohlenhydrate

72 g

Fett

19.2 g

gesättigte Fettsäuren

1.9 g

Ballaststoffe

15.3 g

Natrium

424.5 mg
---
Alternative Rezepte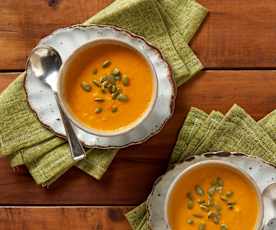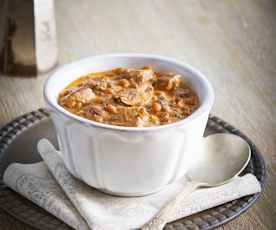 Lentil Mushroom Stroganoff
55 Min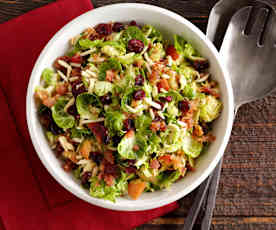 Brussel Sprouts Salad with Cranberries and Almonds
50 Min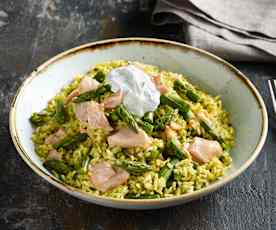 Salmon and Lemon Rice Salad
40 Min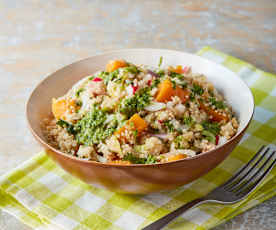 Quinoa Salad with Brazil Nut and Cilantro Pesto
55 Min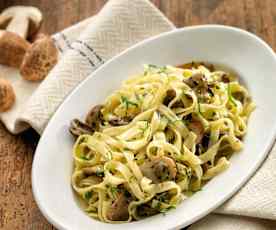 Tagliatelle with Porcini Mushrooms
1 Std.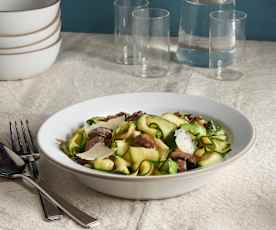 Cheesy Zucchini Pappardelle
50 Min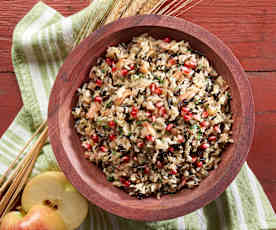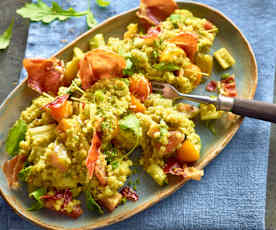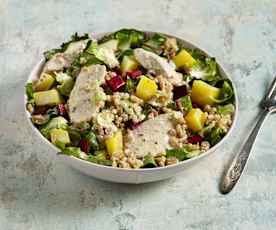 Chicken and Farro Harvest Salad
1 Std. 45 Min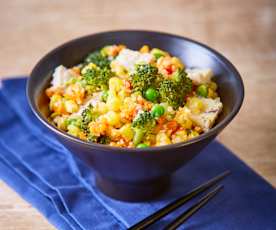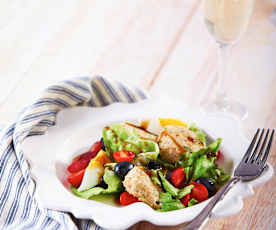 Tuna and Amaranth Patties with Cranberry Vinaigrette Salad
45 Min