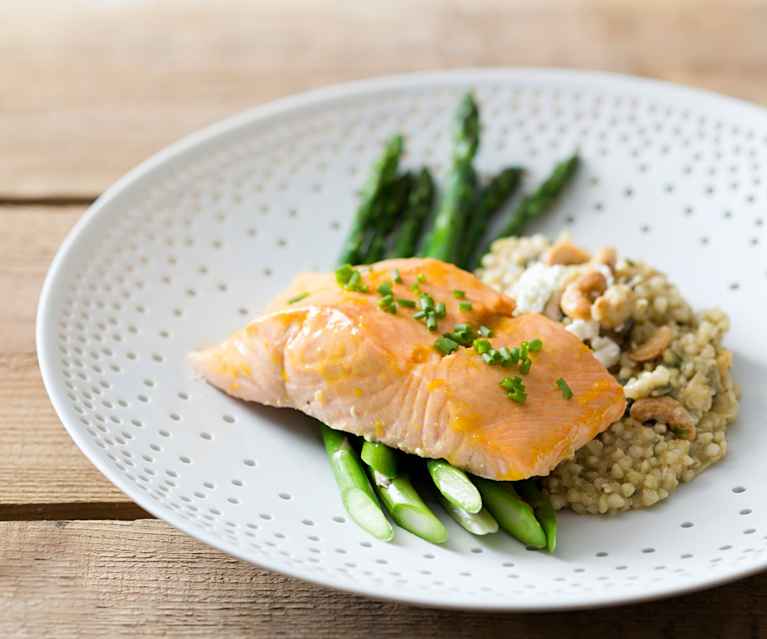 TM6 TM5
Kompatible Versionen
Achtung: Dieses Rezept erfordert eine spezielle Gerätekombination und ist nicht mit anderen Geräten kompatibel.
TM6
TM6 + Thermomix Friend
TM5
TM5 + Thermomix Friend
TM31
Salmon Fillets with Orange Glaze, Buckwheat Risotto and Steamed Asparagus
Schwierigkeitsgrad
Die meisten unserer Rezepte sind einfach. Manche sind etwas herausfordernder: und zwar jene, die als mittel oder fortgeschritten bewertet sind.
Arbeitszeit
Dies ist die Arbeitszeit, die du benötigst, um diese Mahlzeit zuzubereiten.
Gesamtzeit
Dies ist die Zeit, die benötigt wird, um das Gericht von Anfang bis Ende zuzubereiten: Marinieren, Backen, Kühlen usw.
Portionen
Dies zeigt an, auf wie viele Portionen dieses Gericht zugeschnitten ist.
Zutaten
½ oz orange peel, thin skin only, no white pith
1 tsp sugar
3 ½ oz orange juice, freshly squeezed (approx. 2 medium oranges)
1 oz honey
¼ tsp wasabi paste, to taste (optional)
4 sprigs fresh flat leaf parsley, leaves only (approx. 35 leaves)
2 sprigs fresh dill, leaves only (approx. 28 clumps of fine leaves)
4 sprigs cilantro, leaves only (approx. 42 leaves )
4 fresh salmon fillets, skinless (approx. 16-24 oz total)
1 - 2 pinches salt, plus extra to taste
1 - 2 pinches ground black pepper, plus extra to taste
2 leeks, white part only, quartered (approx. 5.5 oz total)
2 oz extra virgin olive oil
1 oz salted butter
3 ½ oz dry white wine
32 ½ oz water
2 tbsp vegetable stock paste (see Tip)
8 oz buckwheat groats
1 - 2 oz lemon juice, freshly squeezed (approx. 2 small lemons)
14 - 15 oz asparagus, trimmed and cut into halves (approx. 1 bunch)
3 ½ oz cashews, roasted, unsalted (optional)
1 oz unsalted pumpkin seeds
oder 1 oz unsalted sunflower seeds
2 oz goat cheese, crumbled
---
Nährwerte

pro 1 portion

Brennwert

4347 kJ / 1039 kcal

Eiweiß

50 g

Kohlenhydrate

86 g

Fett

57 g

Ballaststoffe

12 g
---
Alternative Rezepte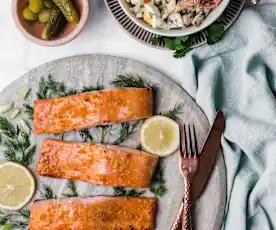 Citrus-Glazed Salmon with Roasted Cauliflower Salad
1 Std.
Carrot, Feta and Mint Salad
40 Min
Salmon in Mushroom Cream Sauce with Potatoes
50 Min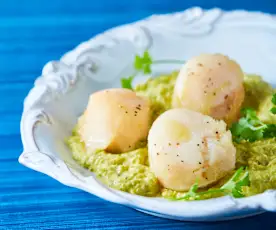 Steamed Scallops with Sweet Pea Purée
25 Min
Seared Scallops with Carrot and Ginger Sauce (Hestan Cue™)
40 Min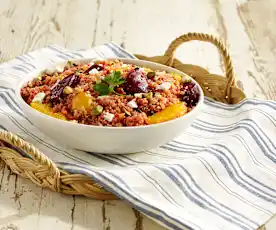 Orange Balsamic Beet and Quinoa Salad
40 Min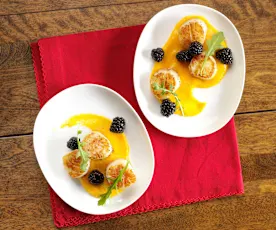 Seared Scallops with Sweet Potato Purée
30 Min
Chicken and Quinoa with Peach Salsa
40 Min
Watermelon and Salmon Ceviche Stack
30 Min