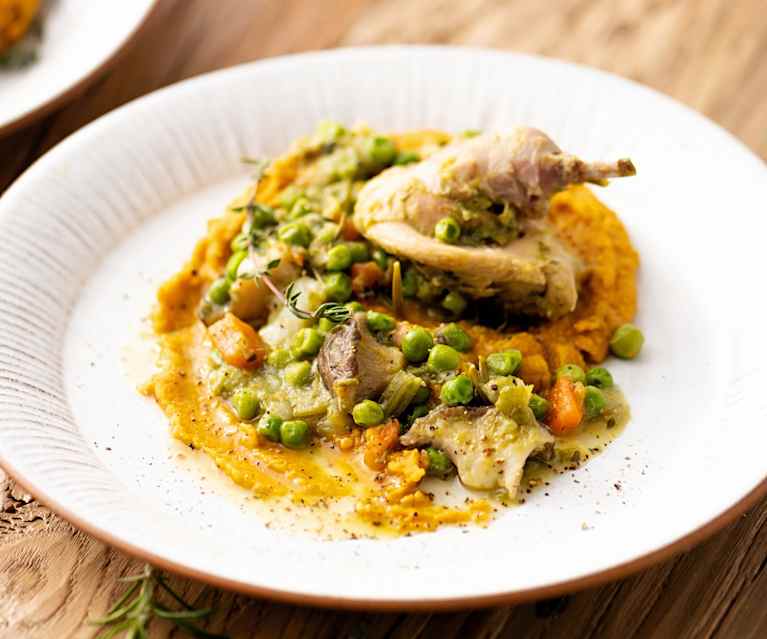 TM6 TM5 TM31
Kompatible Versionen
Achtung: Dieses Rezept erfordert eine spezielle Gerätekombination und ist nicht mit anderen Geräten kompatibel.
TM6
TM6 + Thermomix Friend
TM5
TM5 + Thermomix Friend
TM31
Rabbit Stew with Sweet Potato Purée
Schwierigkeitsgrad
Die meisten unserer Rezepte sind einfach. Manche sind etwas herausfordernder: und zwar jene, die als mittel oder fortgeschritten bewertet sind.
Arbeitszeit
Dies ist die Arbeitszeit, die du benötigst, um diese Mahlzeit zuzubereiten.
Gesamtzeit
Dies ist die Zeit, die benötigt wird, um das Gericht von Anfang bis Ende zuzubereiten: Marinieren, Backen, Kühlen usw.
Portionen
Dies zeigt an, auf wie viele Portionen dieses Gericht zugeschnitten ist.
Zutaten
35 g olive oil
200 g leeks, cut in pieces
2 garlic cloves
150 g carrots, diced (1.5 cm)
50 g celery, cut in pieces (1 cm)
600 g whole rabbit, skinless, head removed, cut in small pieces (see tip)
100 g water
15 g plain flour
200 g turnips, diced (1.5 cm)
200 g savoy cabbage leaves, cut in pieces
1 vegetable stock cube (for 0.5 l)
oder 1 heaped tsp vegetable stock paste, homemade
2 ¼ tsp salt
1 pinch ground black pepper
1 bouquet garni (bay leaves, rosemary and thyme), approx. 25 g (see tip)
500 g sweet potatoes, cut in pieces (approx. 1,5 cm)
500 g tinned large white beans (e.g. cannellini, haricot, butter beans)
1 piece fresh turmeric (approx. 5 cm), sliced
300 g fresh green peas
oder frozen green peas, defrosted
200 - 250 g fresh oyster mushrooms, cut in pieces
5 sprigs fresh thyme, leaves only
---
Nährwerte

pro 1 portion

Brennwert

2000 kJ / 478 kcal

Eiweiß

34 g

Kohlenhydrate

60 g

Fett

13 g

gesättigte Fettsäuren

2.7 g

Ballaststoffe

14 g

Natrium

1037 mg
---
Alternative Rezepte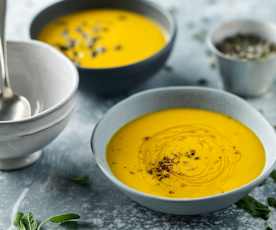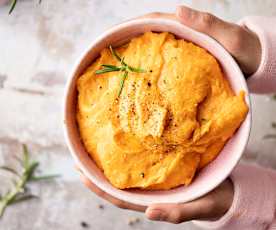 Rosemary Mashed Root Vegetables
45 Min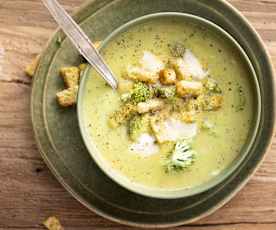 Broccoli Cream Soup with Croutons
1 Std.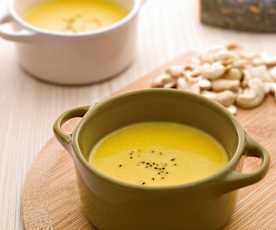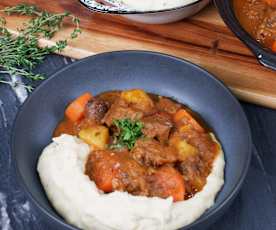 Beef Stew with Cauliflower Mash
2 Std.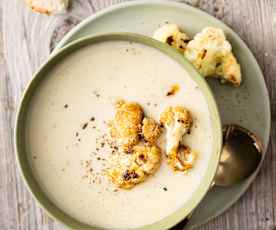 Cauliflower Cream Soup and Glazed Florets
45 Min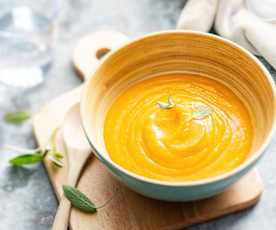 Baby-friendly Butternut and Sage Soup
40 Min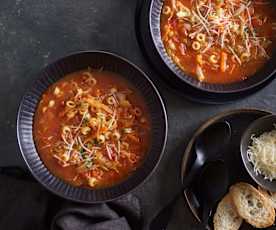 Italian Ditalini Vegetable Soup (TM6)
40 Min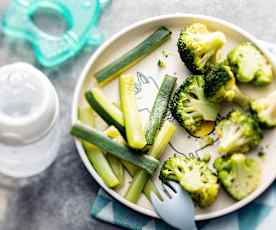 Steamed Broccoli and Courgettes
15 Min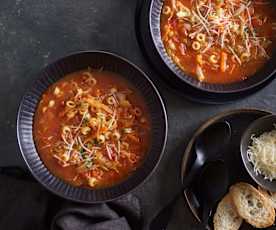 Italian Ditalini Vegetable Soup (TM5)
40 Min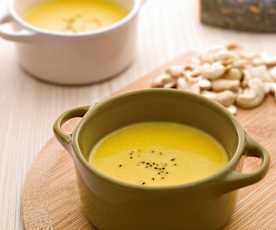 Butternut Squash and Ginger Soup
35 Min