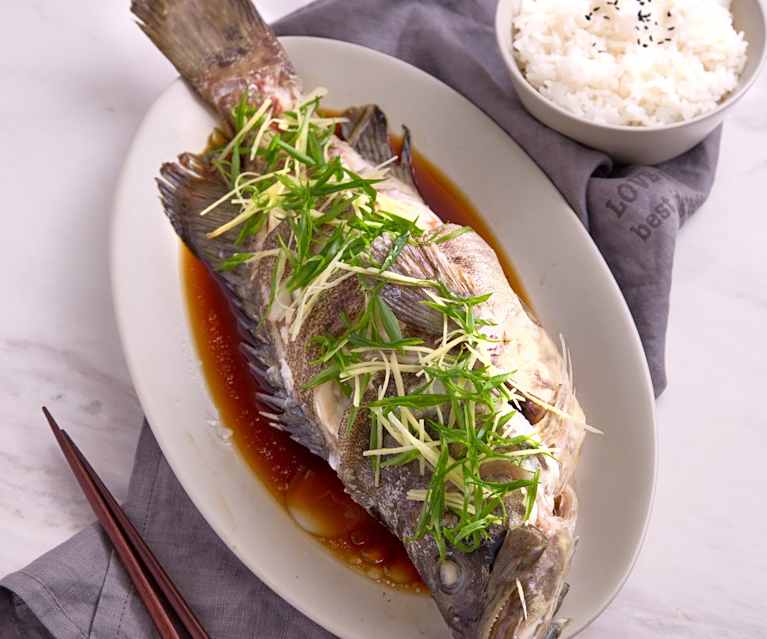 TM6 TM5 TM31
Kompatible Versionen
Achtung: Dieses Rezept erfordert eine spezielle Gerätekombination und ist nicht mit anderen Geräten kompatibel.
TM6
TM6 + Thermomix Friend
TM5
TM5 + Thermomix Friend
TM31
Qing zheng yu (steamed fish with ABC soup)
Schwierigkeitsgrad
Die meisten unserer Rezepte sind einfach. Manche sind etwas herausfordernder: und zwar jene, die als mittel oder fortgeschritten bewertet sind.
Arbeitszeit
Dies ist die Arbeitszeit, die du benötigst, um diese Mahlzeit zuzubereiten.
Gesamtzeit
Dies ist die Zeit, die benötigt wird, um das Gericht von Anfang bis Ende zuzubereiten: Marinieren, Backen, Kühlen usw.
Portionen
Dies zeigt an, auf wie viele Portionen dieses Gericht zugeschnitten ist.
Zutaten
ABC Soup
1000 g boiling water
250 - 350 g pork ribs
1000 g cold water
150 g potato, peeled and cut into pieces (5 cm)
100 g carrot, peeled and cut into pieces (3-4 cm)
1 tomato, cut into quarters and deseeded
100 g brown onion, cut into eighths
1 sweet corn cob, cut into pieces (2-3 cm)
20 g small dried anchovies (optional - see Tips)
60 g Shaoxing wine (Chinese cooking wine)
1 tsp salt, to taste
Steamed fish and garnishes
500 g whole fish, gutted and cleaned (see Tips)
3 cm piece fresh ginger, peeled and cut into thin slices, plus an extra 1-2 cm piece peeled and cut into julienne, for garnishing
4 spring onions/shallots, trimmed and cut into thin slices
2 tsp Shaoxing wine (Chinese cooking wine)
2 tbsp soy sauce
½ - 1 tsp sesame oil
red chilli oil, to taste (optional), for serving
3 - 4 tbsp fermented black beans (optional - see Tips), for serving
---
Nährwerte

pro 1 portion

Brennwert

713.2 kJ / 169.6 kcal

Eiweiß

47.9 g

Kohlenhydrate

18.2 g

Fett

25.7 g

gesättigte Fettsäuren

9.3 g

Ballaststoffe

6 g

Natrium

1702 mg
---
Alternative Rezepte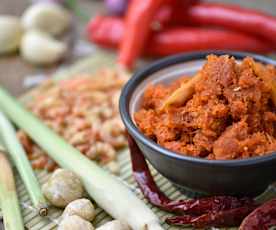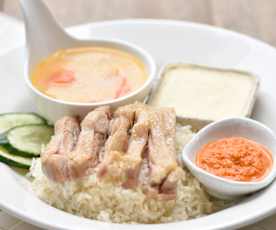 Four Course Meal (Chicken Rice)
1 Std. 25 Min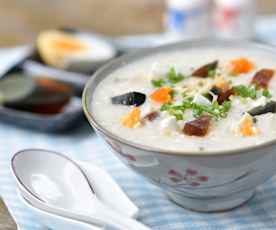 Chicken porridge with century egg
30 Min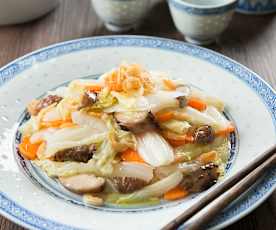 Kai yang bai cai (braised cabbage with mushrooms)
40 Min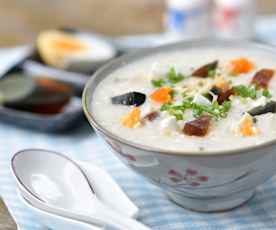 Chicken Porridge With Century Egg
30 Min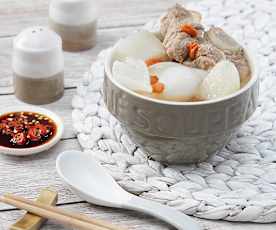 White Radish Pork Rib Soup
3 Std.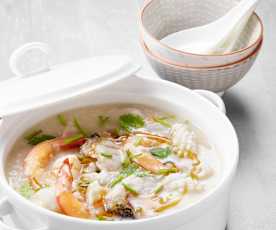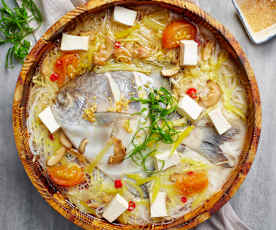 Teochew Steamed Pomfret With Mee Hoon
40 Min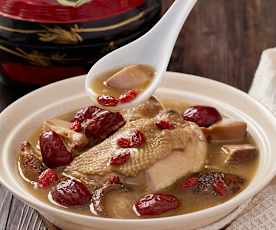 Foochow Nourishing Chicken Soup
1 Std. 20 Min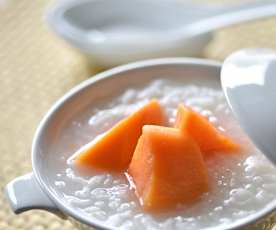 Teochew rice porridge with sweet potato
30 Min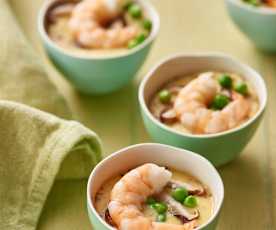 Chawan mushi (Japanese savoury egg custard)
35 Min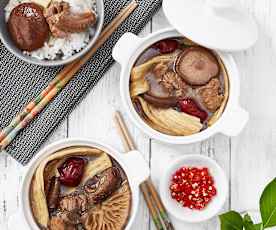 Pork Rib Soup With Dried Shiitake Mushroom And Bean Curd
3 Std. 10 Min