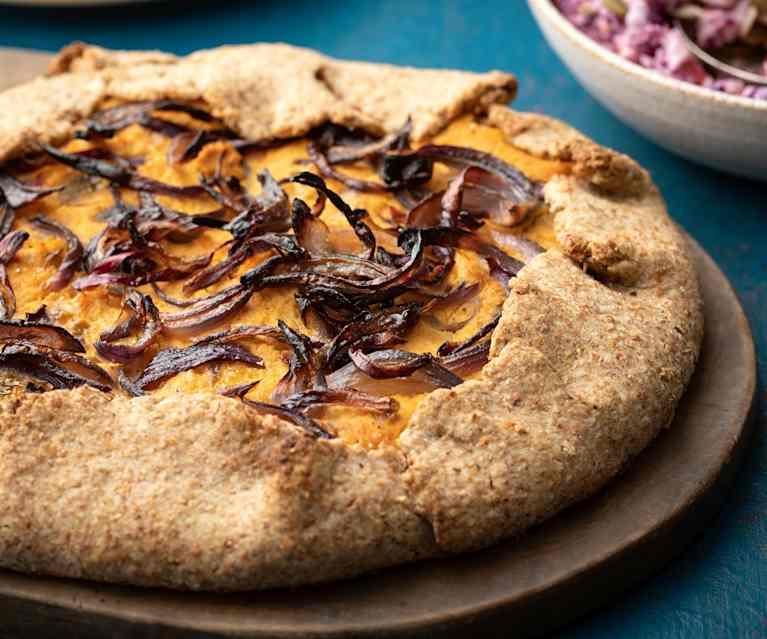 TM6 TM5
Kompatible Versionen
Achtung: Dieses Rezept erfordert eine spezielle Gerätekombination und ist nicht mit anderen Geräten kompatibel.
TM6
TM6 + Thermomix Friend
TM5
TM5 + Thermomix Friend
TM31
Pumpkin and Onion Galette with Autumn Coleslaw
Schwierigkeitsgrad
Die meisten unserer Rezepte sind einfach. Manche sind etwas herausfordernder: und zwar jene, die als mittel oder fortgeschritten bewertet sind.
Arbeitszeit
Dies ist die Arbeitszeit, die du benötigst, um diese Mahlzeit zuzubereiten.
Gesamtzeit
Dies ist die Zeit, die benötigt wird, um das Gericht von Anfang bis Ende zuzubereiten: Marinieren, Backen, Kühlen usw.
Portionen
Dies zeigt an, auf wie viele Portionen dieses Gericht zugeschnitten ist.
Zutaten
Pastry
190 g wholemeal flour, plus extra for dusting
115 g unsalted butter, cold, diced
1 tsp fresh thyme leaves
½ tsp fine sea salt
¼ tsp ground black pepper
50 g water, ice cold
Filling
600 g pumpkin, peeled, diced (2 cm)
oder butternut squash, peeled, diced (2 cm)
500 g boiling water
1 Tbsp olive oil, plus extra for brushing
2 red onions, large (approx. 220 g), sliced
75 g cream cheese
oder ricotta cheese
1 pinch chilli flakes (optional)
½ tsp fine sea salt, plus extra to taste
¼ tsp ground black pepper, plus extra to taste
Coleslaw
300 g red cabbage, cored, cut in pieces (4 cm)
50 g carrots, cut in pieces (3 cm)
100 g celeriac, cut in pieces (3 cm)
200 g red apples (approx. 2), cored and quartered
60 g mayonnaise
30 g plain yoghurt
20 g Dijon mustard
mixed seeds, toasted, for sprinkling
---
Nährwerte

pro 1 portion

Brennwert

3038 kJ / 730 kcal

Eiweiß

13 g

Kohlenhydrate

58 g

Fett

47 g

gesättigte Fettsäuren

20 g

Natrium

803 mg
---
Alternative Rezepte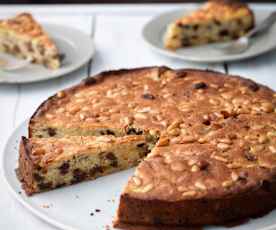 Courgette and Pine Nut Cake
50 Min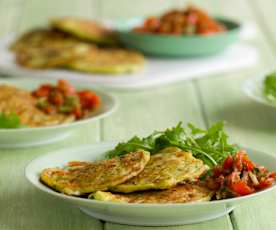 Mediterranean Courgette Fritters and Salsa
30 Min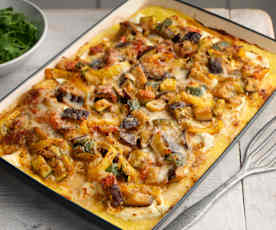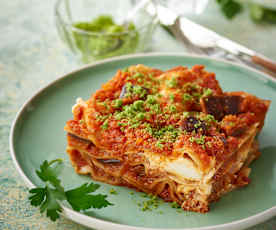 Steamed Aubergine and Ricotta Lasagne
1 Std. 25 Min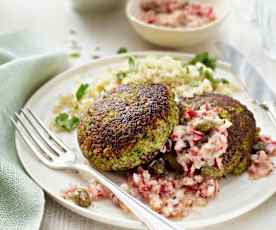 Broccoli Fritters with Radish Salad and Lemon Quinoa
1 Std.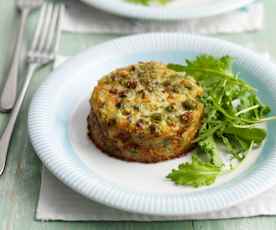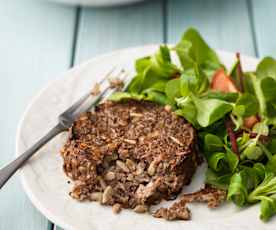 Lentil, Mushroom and Nut Patties
1 Std. 30 Min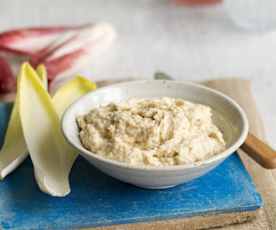 Artichoke & Butter Bean Dip
10 Min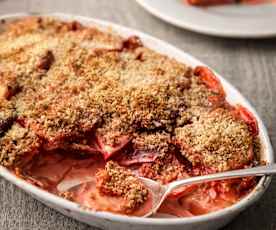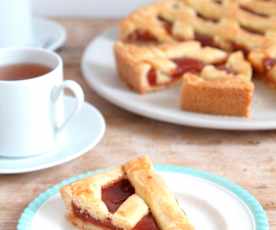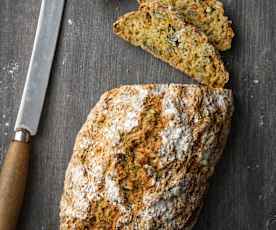 Courgette and Carrot Loaf
45 Min