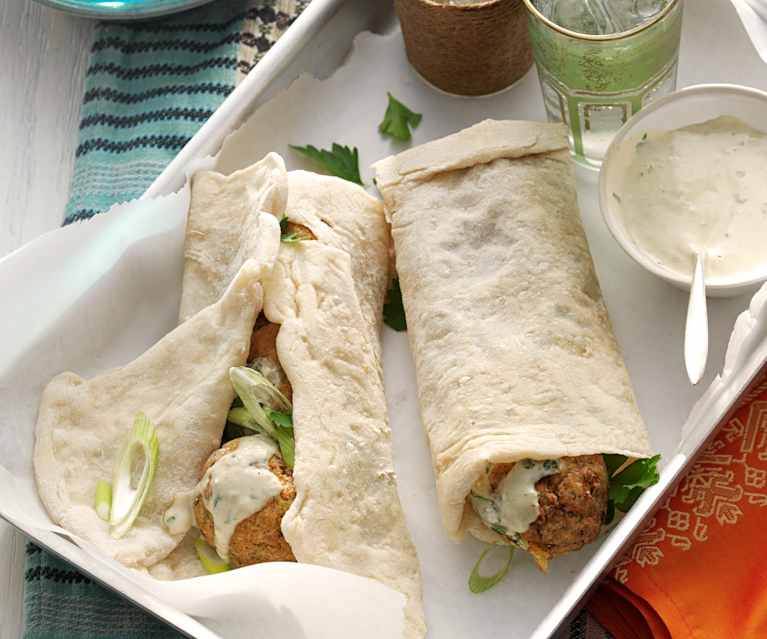 TM5 TM6
Kompatible Versionen
Achtung: Dieses Rezept erfordert eine spezielle Gerätekombination und ist nicht mit anderen Geräten kompatibel.
TM6
TM6 + Thermomix Friend
TM5
TM5 + Thermomix Friend
TM31
Falafel in Square Flatbread (R'gaif Bread) with Tahini Sauce
Schwierigkeitsgrad
Die meisten unserer Rezepte sind einfach. Manche sind etwas herausfordernder: und zwar jene, die als mittel oder fortgeschritten bewertet sind.
Arbeitszeit
Dies ist die Arbeitszeit, die du benötigst, um diese Mahlzeit zuzubereiten.
Gesamtzeit
Dies ist die Zeit, die benötigt wird, um das Gericht von Anfang bis Ende zuzubereiten: Marinieren, Backen, Kühlen usw.
Portionen
Dies zeigt an, auf wie viele Portionen dieses Gericht zugeschnitten ist.
Zutaten
Tahini Sauce
2 garlic cloves
3 sprigs fresh flat-leaf parsley, leaves only
150 g tahini
130 g water
1 Tbsp lemon juice
¾ - 1 tsp fine sea salt, to taste
½ - ¾ tsp ground cumin, to taste
R'gaif Bread
180 g water
20 g fresh yeast, crumbled
oder 1 heaped tsp dried instant yeast (10 g)
260 gram wheat flour, plus extra for dusting
½ tsp fine sea salt
oil, for greasing
Falafel
4 spring onions, cut in pieces
4 garlic cloves
5 g fresh parsley
4 sprigs fresh mint, leaves only
½ fresh red chilli, deseeded
1 tsp baking powder
720 g tinned chick peas, drained
1 tsp fine sea salt
1 tsp ground cumin
1 tsp ground coriander
Finalising R'gaif Bread and Falafel
400 gram wheat flour, plus extra for dusting
oil, for frying
---
Nährwerte

pro 1 portion

Brennwert

53679 kJ / 1282 kcal

Eiweiß

42 g

Kohlenhydrate

177 g

Fett

42 g

Ballaststoffe

18 g
---
Alternative Rezepte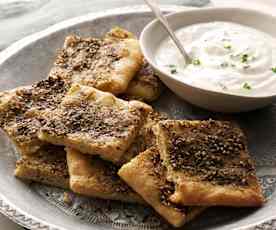 Lebanese Spiced Flatbread
3 Std. 20 Min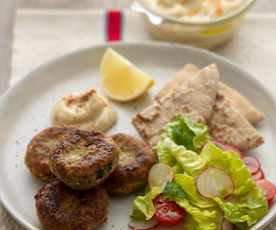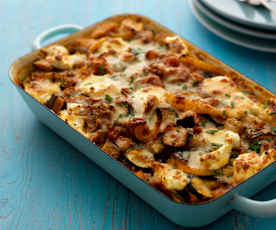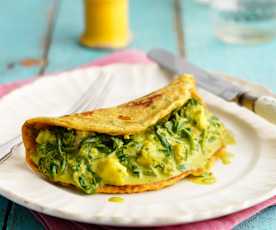 Pudla with Spinach and Paneer
1 Std.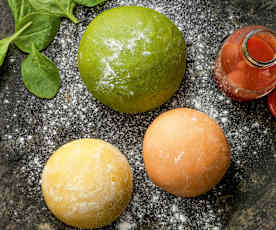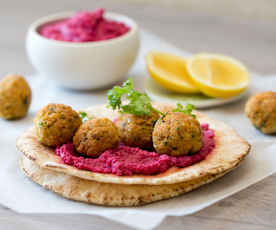 Mini Falafel with Beetroot Houmous
20 Min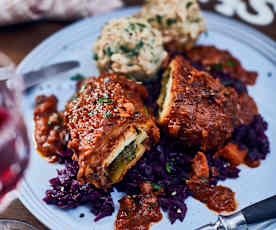 Vegan Roulades with Dumplings and Red Cabbage
2 Std. 20 Min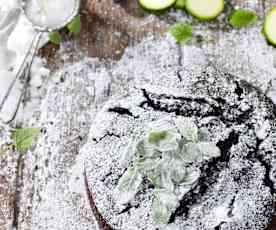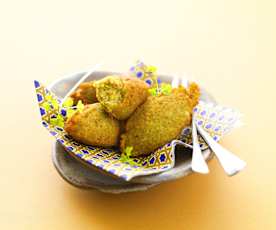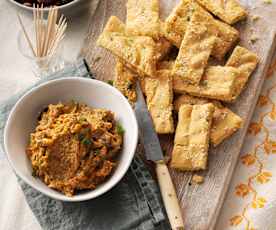 Chickpea Flatbread and Curried Vegetable Dip
50 Min
Gnocchi with Taleggio Cheese
1 Std. 40 Min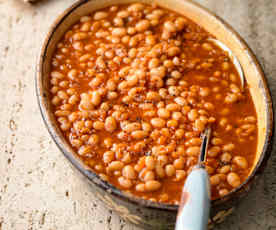 Slow Cooked Beans with Cider
2 Std. 30 Min