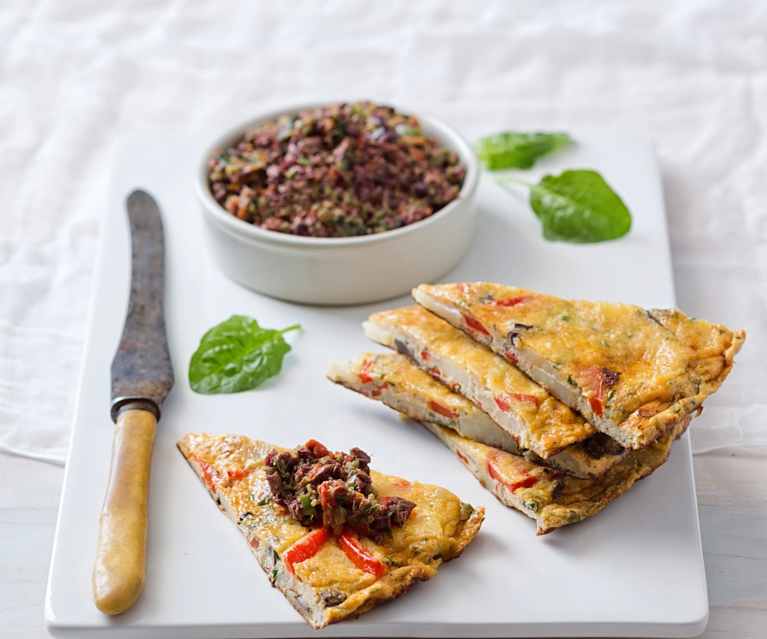 TM6 TM5 TM31
Kompatible Versionen
Achtung: Dieses Rezept erfordert eine spezielle Gerätekombination und ist nicht mit anderen Geräten kompatibel.
TM6
TM6 + Thermomix Friend
TM5
TM5 + Thermomix Friend
TM31
Red Pepper and Potato Tortillas with Olive Tapenade
Schwierigkeitsgrad
Die meisten unserer Rezepte sind einfach. Manche sind etwas herausfordernder: und zwar jene, die als mittel oder fortgeschritten bewertet sind.
Arbeitszeit
Dies ist die Arbeitszeit, die du benötigst, um diese Mahlzeit zuzubereiten.
Gesamtzeit
Dies ist die Zeit, die benötigt wird, um das Gericht von Anfang bis Ende zuzubereiten: Marinieren, Backen, Kühlen usw.
Portionen
Dies zeigt an, auf wie viele Portionen dieses Gericht zugeschnitten ist.
Zutaten
Olive Tapenade
50 g pitted black olives
50 g green olives, pitted
2 sun-dried tomatoes, drained
1 Tbsp pickled capers, drained
5 fresh basil leaves
2 pinches smoked paprika
1 tsp balsamic vinegar
Tortilla
50 g Parmesan cheese, cut in pieces (3 cm)
80 g red onion, quartered
1 Tbsp olive oil, plus extra for greasing
2 garlic cloves
4 sprigs fresh flat-leaf parsley, leaves only
500 g water
200 g new potatoes, peeled, cut in halves lengthways and cut in slices (0.5 cm)
40 - 60 g fresh mushrooms, cleaned and sliced (optional)
80 g red pepper, deseeded and cut in strips (0.5 cm)
½ tsp paprika
¼ - ½ tsp fine sea salt, to taste
¼ - ½ tsp ground black pepper, to taste
6 large eggs
50 g whole milk
---
Nährwerte

pro 1 portion

Brennwert

687 kJ / 164 kcal

Eiweiß

9.7 g

Kohlenhydrate

5.6 g

Fett

11 g

Ballaststoffe

1.8 g
---