TM6 TM5 TM31
Kompatible Versionen
Achtung: Dieses Rezept erfordert eine spezielle Gerätekombination und ist nicht mit anderen Geräten kompatibel.
TM6
TM6 + Thermomix Friend
TM5
TM5 + Thermomix Friend
TM31
Whole Steamed Chicken with Spicy Cajun Rub
Schwierigkeitsgrad
Die meisten unserer Rezepte sind einfach. Manche sind etwas herausfordernder: und zwar jene, die als mittel oder fortgeschritten bewertet sind.
Arbeitszeit
Dies ist die Arbeitszeit, die du benötigst, um diese Mahlzeit zuzubereiten.
Gesamtzeit
Dies ist die Zeit, die benötigt wird, um das Gericht von Anfang bis Ende zuzubereiten: Marinieren, Backen, Kühlen usw.
Portionen
Dies zeigt an, auf wie viele Portionen dieses Gericht zugeschnitten ist.
Zutaten
Lemon and Herb Stuffing
5 sprigs fresh parsley, leaves only
2 sprigs fresh thyme, leaves only
1 - 2 sprigs fresh sage leaves, to taste
½ lemon, thin peelings of skin and juice (approx. 30 g)
30 g unsalted butter, diced
70 g onions, quartered
1 - 2 pinches fine sea salt, to taste
1 - 2 pinches ground black pepper, to taste
1 Tbsp sunflower seeds
100 g breadcrumbs
Spicy Cajun Rub
160 g coarse sea salt
1 Tbsp chilli powder
1 Tbsp smoked paprika
1 Tbsp dried onion flakes
1 Tbsp coriander seeds
1 Tbsp garlic granules
1 ½ Tbsp dried thyme
1 ½ Tbsp dried oregano
2 tsp ground cayenne pepper
2 tsp ground black pepper
½ tsp ground cumin
½ tsp dark brown muscovado sugar
Whole Chicken
1 uncooked, whole chicken (1.2-1.5 kg)
1000 g water
---
Nährwerte

pro 1 portion

Brennwert

2214 kJ / 529 kcal

Eiweiß

55 g

Kohlenhydrate

21.7 g

Fett

24.7 g
---
Alternative Rezepte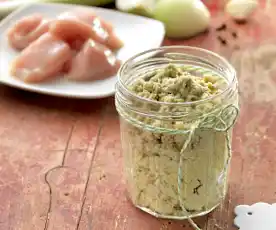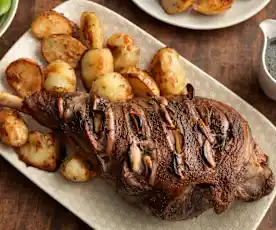 Roast Lamb with Vegetables and Mint Sauce
2 Std.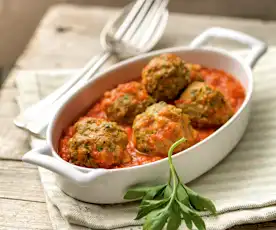 Meatballs with Tomato Sauce
45 Min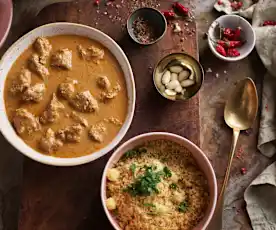 Slow-cooked Lamb Curry with Cucumber Mint Couscous
9 Std.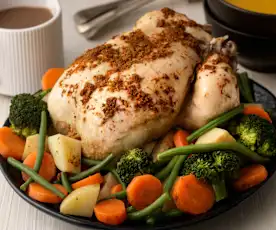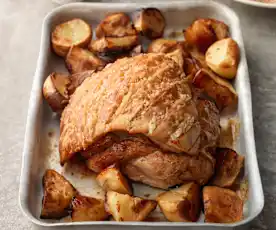 Roast Pork with Crackling, Vegetables and Cider Sauce
2 Std. 20 Min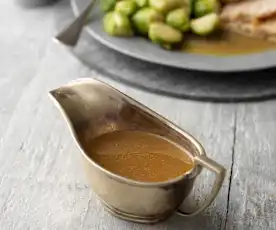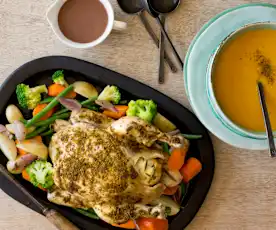 Honey Lime Chicken with Mango Chutney
1 Std. 15 Min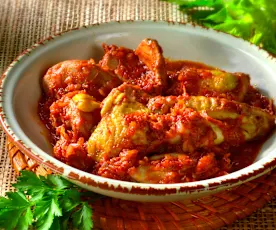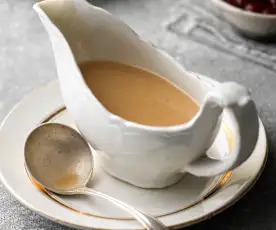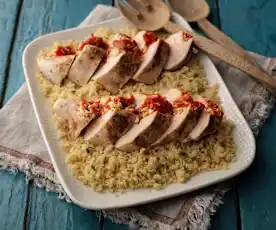 Peppadew® and Feta Stuffed Chicken with Lemon Couscous
1 Std.