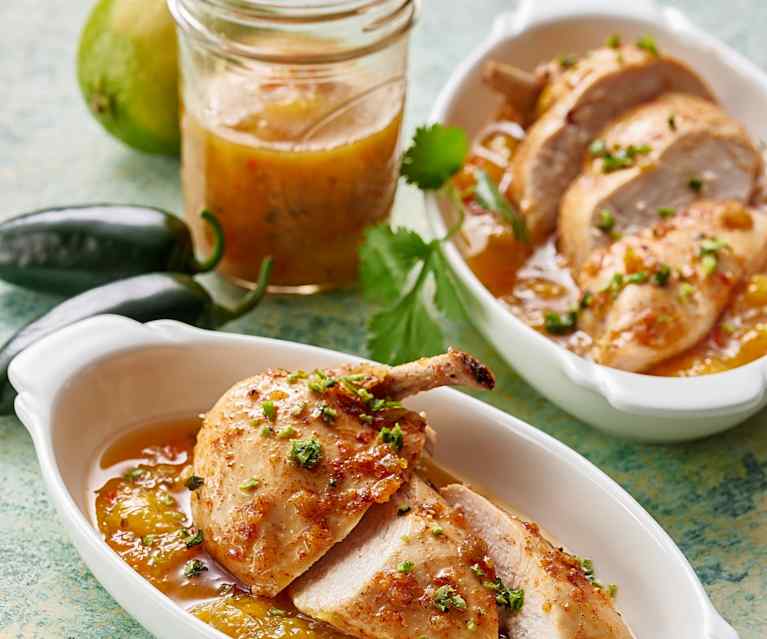 TM5 TM6
Kompatible Versionen
Achtung: Dieses Rezept erfordert eine spezielle Gerätekombination und ist nicht mit anderen Geräten kompatibel.
TM6
TM6 + Thermomix Friend
TM5
TM5 + Thermomix Friend
TM31
Honey lime chicken supremes with Mango chutney
Schwierigkeitsgrad
Die meisten unserer Rezepte sind einfach. Manche sind etwas herausfordernder: und zwar jene, die als mittel oder fortgeschritten bewertet sind.
Arbeitszeit
Dies ist die Arbeitszeit, die du benötigst, um diese Mahlzeit zuzubereiten.
Gesamtzeit
Dies ist die Zeit, die benötigt wird, um das Gericht von Anfang bis Ende zuzubereiten: Marinieren, Backen, Kühlen usw.
Portionen
Dies zeigt an, auf wie viele Portionen dieses Gericht zugeschnitten ist.
Zutaten
Marinated chicken
30 g honey
½ tsp freshly ground black pepper
½ tsp salt
½ - 1 tsp ground sweet paprika
1 garlic clove
1 lime, preferably organic, zest (cut in 1 cm pieces) and juice
4 chicken supremes, skinless (approx. 800 g) (see tip)
Mango chutney and steamed chicken supremes
10 - 15 g fresh coriander
3 - 6 limes, preferably organic, zest (cut in 1 cm pieces) and juice
2 garlic cloves
100 g onions, cut in halves
75 g red peppers, cut in pieces
1 - 2 fresh jalapeño chillies, deseeded
500 g ripe mango, flesh only, cut in small pieces (1-2 cm)
2 tsp salt
100 g sugar
250 g water
---
Nährwerte

pro 1 portion

Brennwert

1346 kJ / 321 kcal

Eiweiß

43 g

Kohlenhydrate

31 g

Fett

1 g

Ballaststoffe

2.1 g
---
Alternative Rezepte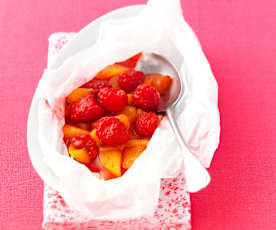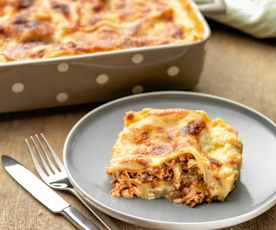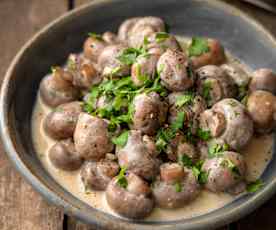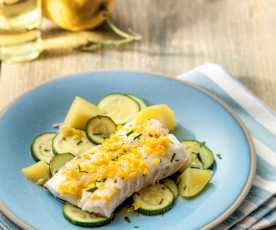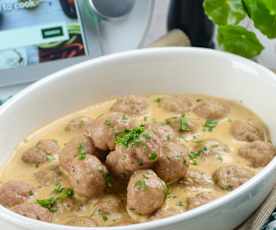 Köttbullar (Swedish Meatballs)
50 Min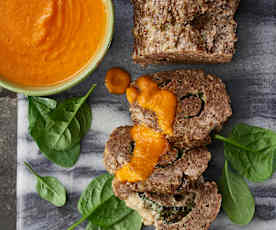 Spinach and cheese-filled meatloaf
1 Std. 15 Min
Hurricane Po'Boy with Saffron Aioli
25 Min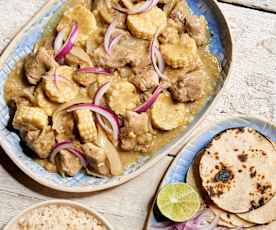 Slow Cooked Pork in Salsa Verde
5 Std. 45 Min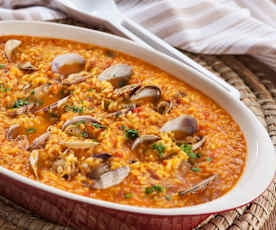 Chicken Breasts Au Gratin in Chipotle Salsa (Ben) Metric
1 Std.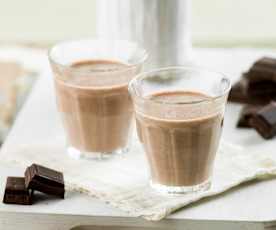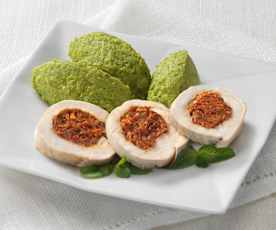 Turkey roulades with minted pea mash
Keine Bewertungen
35 Min