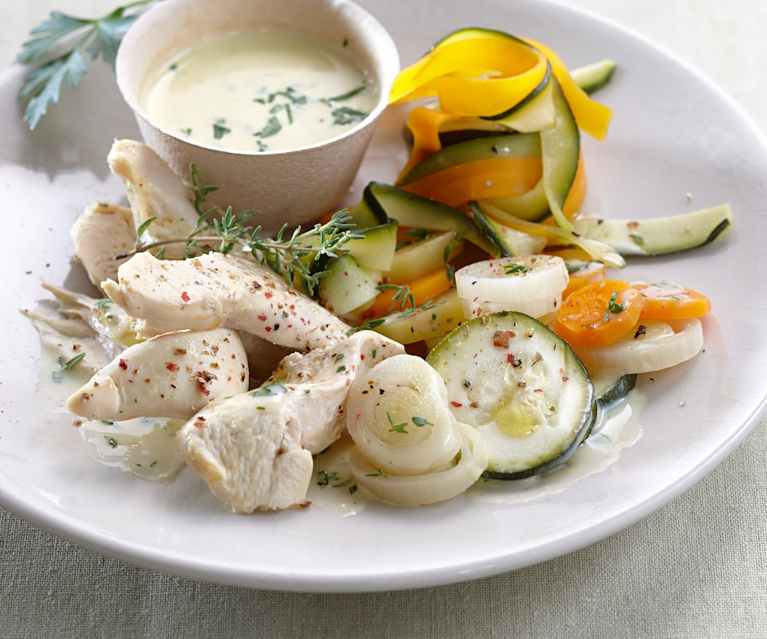 TM6 TM5 TM31
Kompatible Versionen
Achtung: Dieses Rezept erfordert eine spezielle Gerätekombination und ist nicht mit anderen Geräten kompatibel.
TM6
TM6 + Thermomix Friend
TM5
TM5 + Thermomix Friend
TM31
Creamy vegetable soup, steamed chicken with vegetable tagliatelle and mustard sauce
Schwierigkeitsgrad
Die meisten unserer Rezepte sind einfach. Manche sind etwas herausfordernder: und zwar jene, die als mittel oder fortgeschritten bewertet sind.
Arbeitszeit
Dies ist die Arbeitszeit, die du benötigst, um diese Mahlzeit zuzubereiten.
Gesamtzeit
Dies ist die Zeit, die benötigt wird, um das Gericht von Anfang bis Ende zuzubereiten: Marinieren, Backen, Kühlen usw.
Portionen
Dies zeigt an, auf wie viele Portionen dieses Gericht zugeschnitten ist.
Zutaten
Soup, steamed chicken and vegetable tagliatelle
80 - 100 g onions, cut in halves
1 garlic clove
20 g olive oil
1 - 2 carrots
1 courgette
400 g water, plus extra for soup
2 tsp salt
450 g mixed vegetables (e.g. potato, courgette, carrot, leek), cut in pieces
500 g chicken breast fillets, skinless, cut in strips (5 cm x 2 cm)
oder 500 g turkey breast fillets, skinless, cut in strips (5 cm x 2 cm)
20 g butter (optional)
oder 1 Tbsp cream (optional)
Sauce
50 g crème fraîche
oder 50 g cream, min. 30% fat
1 Tbsp mustard
½ tsp salt
1 pinch ground black pepper
3 - 4 sprigs fresh parsley, leaves only
1 egg yolk (optional)
---
Nährwerte

pro 1 portions

Brennwert

1973 kJ / 473 kcal

Eiweiß

34 g

Kohlenhydrate

20 g

Fett

29 g

Ballaststoffe

5 g
---
Alternative Rezepte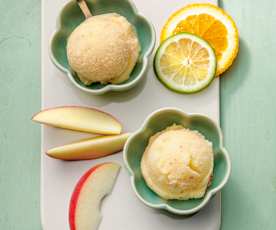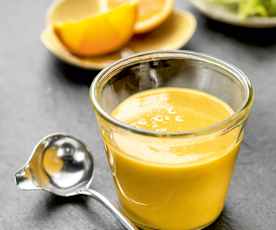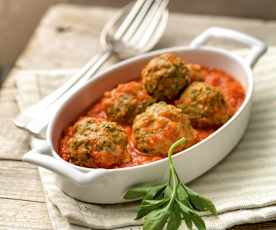 Meatballs with Tomato Sauce
45 Min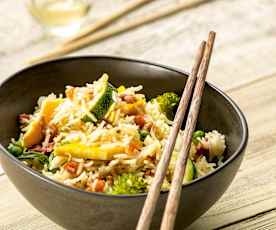 Asian-style Rice with Eggs and Vegetables
30 Min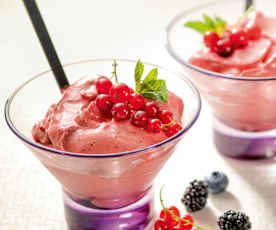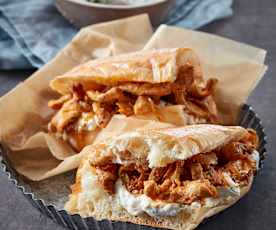 Quick Gyros with Tzatziki
15 Min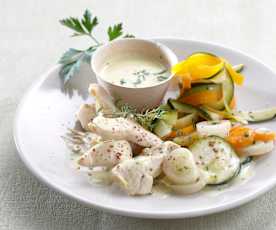 Creamy Vegetable Soup, Steamed Chicken with Vegetable Tagliatelle and Mustard Sauce, Milk Bread Loaves, Frozen Fruit Sorbet
1 Std. 30 Min
Mixed Seafood with Tomato and Herb Sauce
30 Min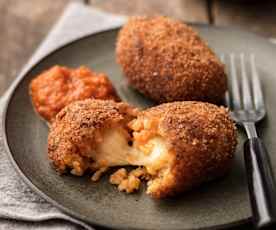 Supplì (Roman Rice Croquettes)
50 Min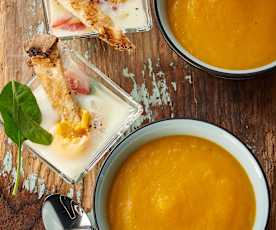 Vegetable Soup, Eggs En Cocotte with Spinach
1 Std.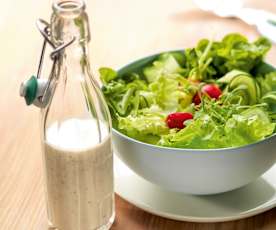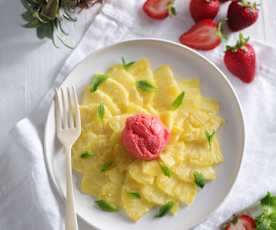 Pineapple Carpaccio with Strawberry Sorbet (TM5)
Keine Bewertungen
20 Min