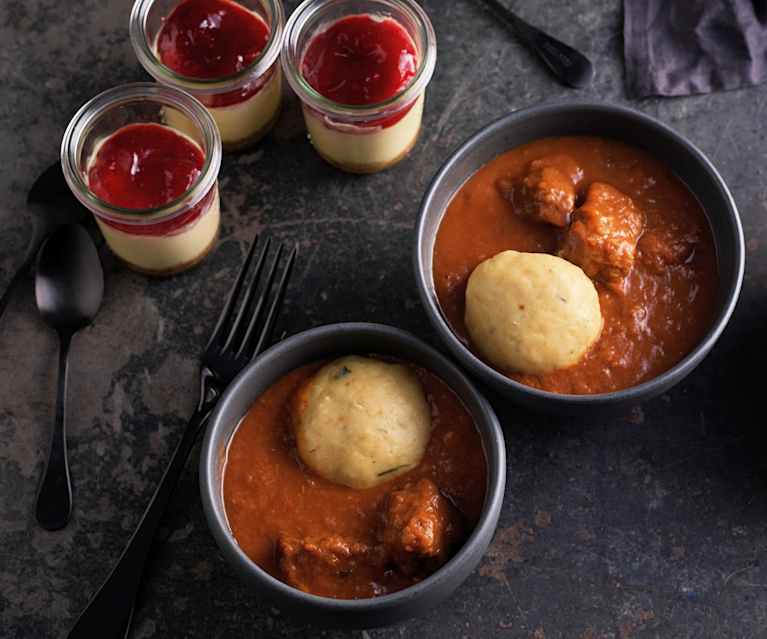 TM5 / TM6 + Thermomix Friend
Kompatible Versionen
Achtung: Dieses Rezept erfordert eine spezielle Gerätekombination und ist nicht mit anderen Geräten kompatibel.
TM6
TM6 + Thermomix Friend
TM5
TM5 + Thermomix Friend
TM31
Beef Goulash with Bread Dumplings; Individual Cheesecakes
Schwierigkeitsgrad
Die meisten unserer Rezepte sind einfach. Manche sind etwas herausfordernder: und zwar jene, die als mittel oder fortgeschritten bewertet sind.
Arbeitszeit
Dies ist die Arbeitszeit, die du benötigst, um diese Mahlzeit zuzubereiten.
Gesamtzeit
Dies ist die Zeit, die benötigt wird, um das Gericht von Anfang bis Ende zuzubereiten: Marinieren, Backen, Kühlen usw.
Portionen
Dies zeigt an, auf wie viele Portionen dieses Gericht zugeschnitten ist.
Zutaten
Cheesecakes
20 g unsalted butter
40 g digestive biscuits
20 g blanched hazelnuts
20 g brown sugar
300 g cream cheese
50 g double cream
60 g caster sugar
1 tsp vanilla extract
1 pinch fine sea salt
2 medium eggs
500 g water
Bread Dumplings
300 g slightly stale bread rolls, cut in pieces (1 cm)
5 sprigs parsley, fresh, leaves only
80 g onion, quartered
220 g whole milk
25 g unsalted butter
3 medium eggs
½ tsp fine sea salt, adjust to taste
2 pinches ground black pepper
2 pinches ground nutmeg
Beef Goulash and Steamed Dumplings
30 g plain flour
300 g water
3 garlic cloves
450 g onions, quartered
30 g vegetable oil
750 g stewing steak, diced (2-3 cm), patted dry with kitchen paper
1 tsp caster sugar
50 g tomato purée
400 g tinned chopped tomatoes
200 g red wine
2 Tbsp sweet paprika
1 tsp fine sea salt
½ tsp ground black pepper
½ tsp caraway seeds
1 tsp lemon zest, grated
1 Tbsp fresh marjoram
3 dried bay leaves
5 juniper berries (optional)
1 pinch ground cloves (optional)
unsalted butter, for greasing
200 g strawberry jam
1 Tbsp white rum
oder 1 Tbsp apple juice
---
Nährwerte

pro 1 portion

Brennwert

3928 kJ / 938 kcal

Eiweiß

46 g

Kohlenhydrate

79 g

Fett

44 g

gesättigte Fettsäuren

21 g

Ballaststoffe

5.2 g

Natrium

1097 mg
---
Alternative Rezepte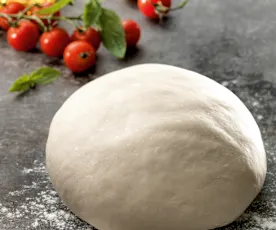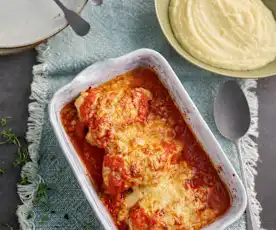 Chicken Breasts Pizzaiola with Celeriac and Potato Purée
1 Std.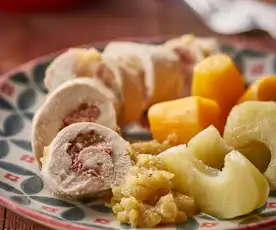 Chicken Involtini with Apples, Sweet Potatoes and Curry Sauce
1 Std. 25 Min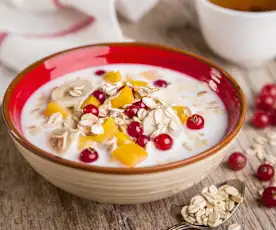 Porridge with Fresh Fruit
10 Min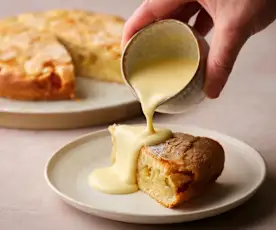 Irish Apple Cake with Crème Anglaise
1 Std. 10 Min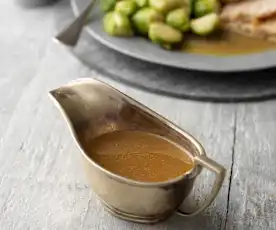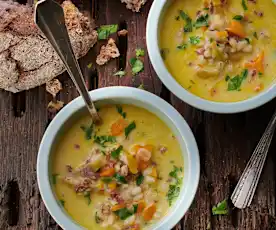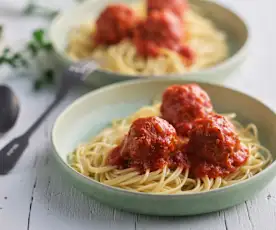 Meatballs with Tomato Sauce and Pasta
45 Min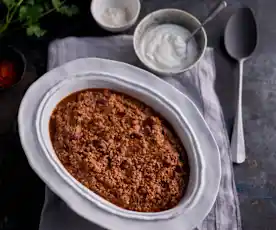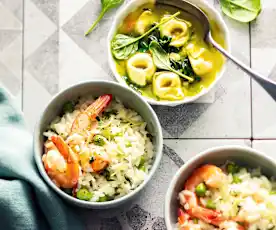 Spinach Soup and Pea Risotto with Prawns
30 Min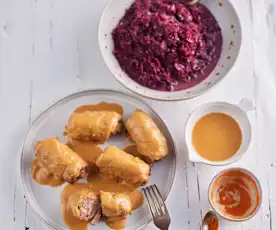 Beef Roulades with Gherkins and Red Cabbage
2 Std. 10 Min